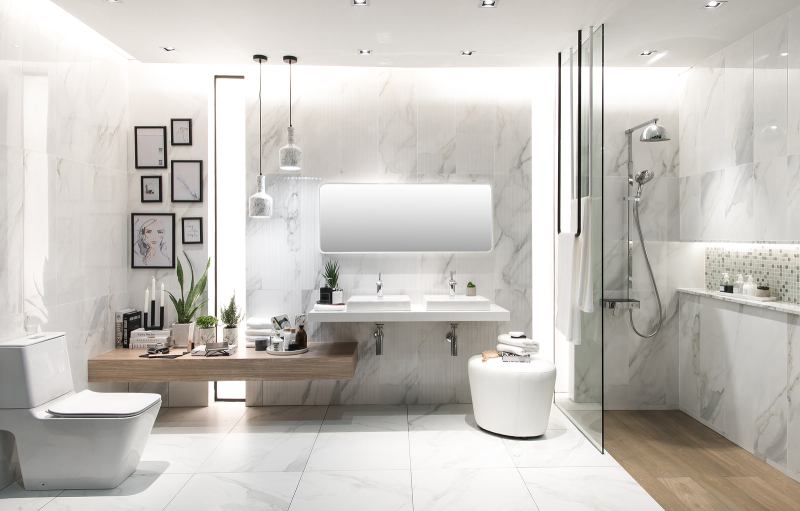 June 14, 2022
Home Accessibility Upgrades with Style
Next time you remodel your home, don't just focus on the basics. Make sure you add some style to your upgrades. At Beall Contracting, we provide homeowners with accessibility upgrades designed to improve their quality of life. We offer various customizations ranging from kitchen, bathroom, and home office home accessibility upgrades to walkways and doorways, flooring, colors and upholstery, and lighting.
Kitchen
When working in the kitchen, everything must be within arm's reach. This includes appliances, cookware, utensils, and food storage containers. A kitchen island or peninsula with a bar stool on one side is helpful for those who need assistance standing up from a chair or sitting down on one. It also makes cooking easier if all your ingredients are close by without moving around too much or bending over repeatedly to grab things from under the counter or above the cabinet. Swapping out the kitchen faucet can also help; a qualified plumber from Beall Contracting can schedule that work for you.
Bathroom
Bathrooms are a great place to start when making your home more accessible. The bathroom is often the first room you see when entering a house, so it's essential that it's as welcoming and inviting as possible to all visitors. There are many ways to make a bathroom more accessible, including installing grab bars in the shower or tub, replacing showerheads with handheld ones, putting in a raised toilet seat, and adding fold-down sinks or bathtubs. Beall Contracting has plumbers that can take care of this plumbing upgrade.
Grab bars. Grab bars are an absolute must for anyone needing a little extra support while getting in and out of the shower or tub. They come in many different styles and colors, so you can even match your towel bars or toilet paper holder if you want! Grab bars are easy to install yourself, or they can be added during a bathroom remodel.
Shower chairs. A shower chair is another great option for those with mobility issues who need help getting into and out of the tub or shower. Although these chairs can be quite expensive, they usually provide better support and stability than grab bars because they have four legs instead of two.
Wheelchair access bathtubs. If you want a wheelchair-accessible bathtub installed in your master bathroom, this is another option available at most home improvement stores today! This type of tub has been explicitly designed to accommodate wheelchairs inside it (without having to take up any extra room).
Home Office
If you work from home or have to do paperwork at home, an ergonomic desk setup can make all the difference in comfort and productivity. A standing desk is also an option to stand up while working instead of sitting down all day long.
Walkways and Doorways
The most apparent accessibility upgrades improve your home's access to the outdoors. If you have an existing walkway, it may be time for a new one. When building a new home, it's essential to consider how people will get in and out of the house. You may want to consider wider doorways and ramps for wheelchair accessibility.
Flooring
Flooring is an integral part of any home, but when it comes to accessibility, there are a few things to consider. You first need to know that some key features make certain types of floors more accessible than others.
Here are some of them:
Sloped entryways: Sloping entryways can help make it easier for wheelchair users to get in and out of their homes without getting stuck on the step by themselves or having someone else push them up the steps. A sloped entryway also makes it easier for people with mobility issues who have trouble walking upstairs to enter and exit their homes quickly and safely without assistance.
Ramps: Ramps are another great way to help wheelchair users get in and out of their homes easily without assistance from others or having anyone push them upstairs. A ramp will allow them to roll right over the threshold, so they don't have to worry about struggling with steps or climbing.
Carpeting/Flooring: Depending upon the accessibility issues, the solution may be tailored. For example, if the person is in a wheelchair, tile or a low pile carpet would be best.
Colors and Upholstery
Choosing the right colors can be difficult if you have poor eyesight or are colorblind. For example, a red couch might look great in the store but could be challenging to see in a dimly-lit room at night. To help with this issue, many paint manufacturers make paint samples in their color lines specifically designed for people with low vision. These colors use different hues and shades that provide greater contrast between colors than traditional paints do. This means they're easier to tell apart and read from farther away — making them perfect for older adults who need a little help with their eyesight.
Updating your furniture is another excellent way to make your home more accessible. For example, if you have arthritis in your hands or back problems that make rising from chairs difficult, try replacing those old wooden chairs with ergonomic ones that offer added support when sitting down or getting up again after dinner together.
Lighting
There are many ways lighting can be made more accessible to those with limited mobility. For example, you can install a dimmer switch on any lights you often use, allowing you to control the brightness level and make it easier to see what you're doing.
Other options include installing motion-sensor lights in hallways or near entrances and exits to turn on when someone approaches them. These lights can also help prevent falls by making dark areas visible from a distance.
Beall Contracting
We covered a plethora of ideas for making your home more accessible. Many of the projects we listed aren't going to break the bank, and you can have them done in a matter of days or weeks. Admittedly, many will require some modification to your space, but if it's within your means, it's worth making these changes so that you can continue living in your own home with greater ease.
Contact us at Beall Contracting with all home accessibility upgrades you need.