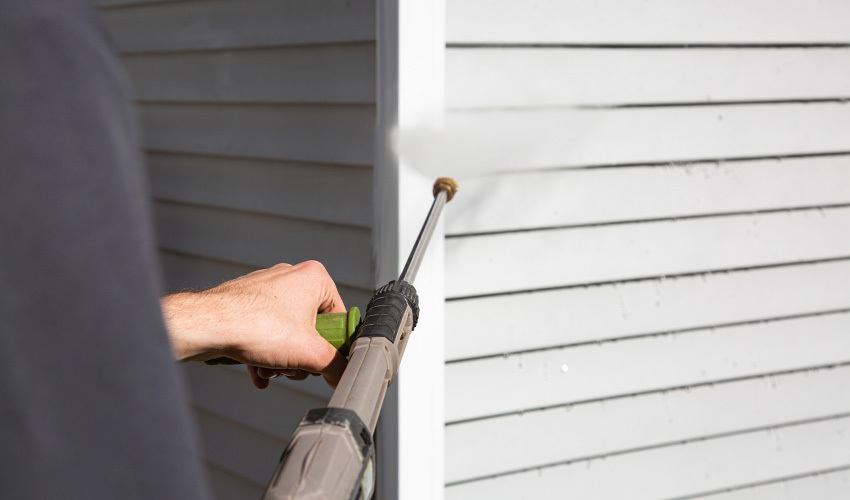 August 11, 2021
How to Pressure Wash Vinyl Siding
Pressure washing isn't only pleasing to watch, it's important when it comes to the health and longevity of your home. As a homeowner, you should be cleaning the exterior of your home to remove dirt, mold, cobwebs, stains, etc. Cleaning vinyl siding is no easy task, but with the help of a pressure washer, you can get it done quickly and efficiently with causing no damage to your vinyl siding. IF you're looking for some advice on how to properly pressure wash your vinyl siding, Beall Contracting is here to help!
Believe it or not, there is a proper way to use a pressure washer when cleaning your vinyl siding. While vinyl siding is very durable and long-lasting, it is prone to breaking and cracking when faced with a high amount of pressure. If you need your house pressure washed but you aren't comfortable doing it yourself, we have two solutions for you: keep reading and learn our top tips to properly pressure wash your vinyl siding, or schedule one of our team members to do it for you!
4 Steps to Properly Pressure Wash your Vinyl Siding:
1. Inspect your home
The first step you'll want to do when pressure washing your vinyl siding is to properly inspect it. Walk around the outside of your home and determine which areas need to be pressure washed. You should also look for any cracks or damage in your siding so you know which areas to avoid with the pressure washer. If you notice there is one area of your home that is extra dirty than the others, look to see if there is a cause, whether it be a bird's nest or a broken gutter, you will want to address these issues before getting started.
2. Know your pressure washers power
Not all pressure washers are created equally – some pressure washers are definitely more powerful than others. A pressure washer with too much power can easily ruin your vinyl siding, so make sure you know how strong your machine is. You wouldn't use a commercial-size pressure washer on a residential home, so always make sure you have the proper equipment before getting started. Not sure which machine to use? You can always call Beall Contracting for more information!
3. Know what not to spray
You've already gone around the exterior of your home and found any cracks or damage. You'll obviously want to avoid those areas, but here is a list of other things you won't want to spray with your pressure washer:
Your windows & window screens
Outdoor lighting
Screen doors
Siding with cracks or damage
Surfaces that have been painted
4. Get to washing
Now that you've mapped out exactly what areas of the outside of your home are being cleaned, which areas to avoid, and how strong your power washer is, there is nothing left to do but get to pressure washing! Start with minimal pressure and build your way up to higher pressure once you get comfortable with using the machine.
To have your home pressure washed by a Beall Contracting nearby handyman, give us a call today!