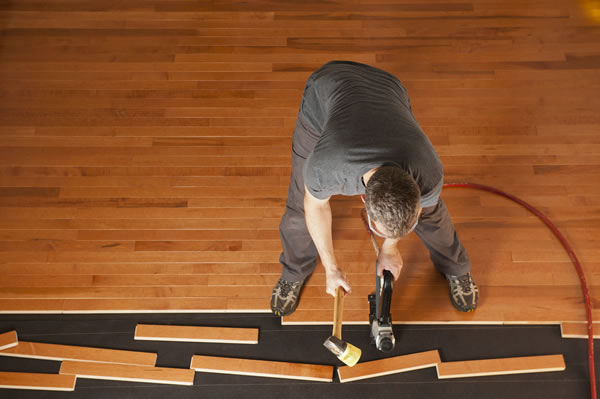 June 09, 2021
Is Hardwood Flooring Right for You?
Hardwood flooring is all the talk lately when it comes to choosing new flooring for your home. There are so many different kinds, styles, and colors of hardwood flooring that can make it overwhelming to choose the right kind for you. Here at Beall Contracting, we can guide you through the decision to choose the best kind of hardwood flooring for your home.
While we love hardwood flooring, we don't always think it's the best flooring option for every household. Each household's lifestyle is different, meaning flooring needs are different. While you may want real hardwood flooring, a local handyman at Beall Contracting may suggest a different flooring option such as vinyl planking or laminate.
If you are looking to re-do the flooring in your home, and trying to determine if hardwood flooring is the right option for you, here are 3 questions you should ask yourself first…
3 Ways to Know if Hardwood Flooring is for You:
1. Do you have large pets?
While smaller pets won't cause much harm to your flooring, bigger pets will. If you have a large dog, its nails are very likely to scratch your floor. No matter if they are walking, running, or playing in your home, their nails can cause micro-scratches to your flooring, and over time, they will become a lot more noticeable and you may need to refinish them more often. You will also have to clean and maintain your floors often from letting your pet inside and outside all day, which can also cause wear and tear on your hardwood flooring.
2. Do you have children?
Children shouldn't turn you away from getting the hardwood floors of your dreams, but with them running around and playing with their favorite toys, they can cause scratches to your flooring. Whether they run through your house with muddy shoes, or they are playing with their favorite car today, your hardwood floors are likely to experience damage and scratches over time, meaning you will need to keep up with them more often.
3. Does your home experience a lot of traffic?
If you enjoy having your friends and family over often for fancy parties or casual gatherings, you and your guests wear will leave a lot of wear and tear on your floor. Whether it be from wearing heels to your fancy dinner parties or dragging in dirt and leaves from your backyard bonfire. Hardwood flooring isn't always the best option if you like to entertain.
Work with Beall Contracting today!
Deepening on your situation, one of our contractors at Beall Contracting will be honest with you about which flooring option is best for your home. If you have smaller pets and you don't experience a lot of foot traffic in your home, hardwood flooring is a great option for you. If you have large pets and your home is the hang-out spot, they may not be the best option for you.
If you are unsure about what to do, and you want advice from one of our contractors, all you have to do is give us a call!